---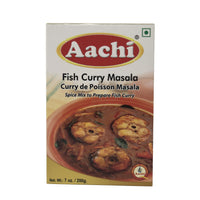 Aachi
Fish Curry Masala
Fisk Karry Masala Pulver.
Spice Mix To Prepare Fish Curry
Netto Vægt: 200g.
Traditional South Indian Gravy- based fish curry spicy mix
Description of contents/Varedeklaration 
Ingredients list:
Rød chili Pulver, Koriander, Gurkemeje, Spids kommen, Sort peber, Salt, Bukkehorn og Sennep.
Fremstillet på en fabrik, der også håndterer sesam, selleri, gluten, jordnødder, treenuts, soja, mælk og sulfit.
Næringsindhold Pr. 100g 
Energi 1328,06kj/ 317,41kcal
Fedt 10,43g
Kulhydrat 45,49g
Sukker 0,0g
Protein 10,41g
Salt 5,02g